Vectorworks 2019 is here!
Vectorworks is constantly evolving and responding to your needs.
Review some of the game-changing improvements in this year's release here or follow Vectorworks official blog here.
Sign up to our newsletter to find out about upcoming Vectorworks promotions, or contact our team with your sales and installation queries.
Vectorworks Service Select
If you are not yet a VSS customer, this is what you are missing:
Best Price Guaranteed
Free product updates
#Future-proof your Software
Priority technical support
Exclusive on-demand learning
VIP access to new libraries, textures, and more
Access to an expanded feature set of Vectorworks Cloud Services, which includes:
Increased storage capacity
Manual or scheduled Sheet layer to PDF cloud processing
Cloud publishing from the Vectorworks application
Ability to measure objects in the PDF drawings generated on the cloud
..and Exclusive Special Offers!! Click here to find out more.
If you are a VSS Customer already, please contact us to find out what's ON OFFER NOW!
Vectorworks 'Make the switch' Promotion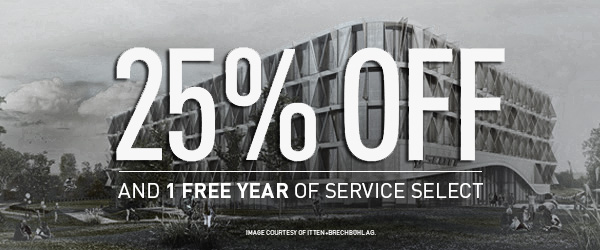 Modelity Ltd. in conjunction with Vectorworks UK, are pleased to announce an exclusive offer for all customers new to Vectorworks.
25% off any Vectorworks 2019 license, plus one year's free subscription to Service Select.
Please contact Modelity at sales@modelity.co.uk for more information.
Mojave Update!
Vectorworks recently announced the release of Vectorworks 2018 SP5 and Vectorworks 2019 SP2.  Both are considered Mojave friendly.  However, as with all upgrades please test thoroughly first before updating all workstations to Mojave and please check Mojave compatibility of other software and peripherals before installation.